Club Car | Commercial Utility Vehicles for Every Job
Club Car is known for superbly engineered products that make everyday life better. Whether you're moving a crowd, a crew, or a heavy load of equipment, Club Car has rugged and versatile commerical utility vehicles (UTVs) to get the job done.
When you're driving a Club Car you can feel the premium quality of each model's unique design. Every Club Car utility vehicle is constructed from an aluminum frame and uniquely resistant to the elements. Our metal flake paint and UV-tested components are specially formulated to resist fading. Club Car electronic fuel injection engines provide better support no matter if you're hauling a group of eight people or a half-ton of equipment.
Available Models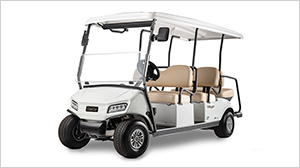 Made for crews and Cargo. Available with a fold-down rear seat to carry up to 300 lbs.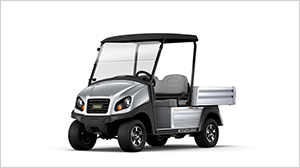 Nimble enough to go wherever you need. Tough enough to handle your entire workday.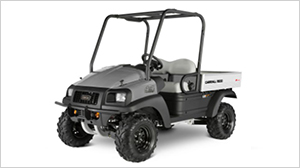 Tougher than any job. The perfect combination of muscle and flexibility.
Great Color Options
No matter which commercial utility vehicle you choose, Club Car offers a great selection of durable color options.
Carryalls and Transporters are available in nine body colors. Choose between dark gray, bright blue, beige, classic blue, red, black, white, dark green, and titanium silver.
Villagers are available in six body colors. Choose between White, Dark Green, Beige, Burgundy, Black, and Classic Blue.
Tempo 2+2 is available in 15 body colors. Six standard colors (molded-in): white, beige, cashmere, platinum, green, and sapphire. Two premium colors (molded-in): sangria and black. Seven premium metallic colors (painted): candy apple red, platinum, sapphire, black, glacier, green, and ice blue.
Get Connected
Club Car Connect Fleet Management enables you to monitor the health of your fleet, maintain geographic boundaries, and communicate directly to vehicles. Ask us about how Club Car can help you streamline and secure your fleet with Club Car Connect.
Build Configurator
Design your new utility vehicle with our new build configurator and experience the quality, comfort, and performance of your Club Car for years to come.
---
Contact Chris Wright, Sales Representative, at 808.486.8313 or email at cwright@nessturf.com for more information.
---