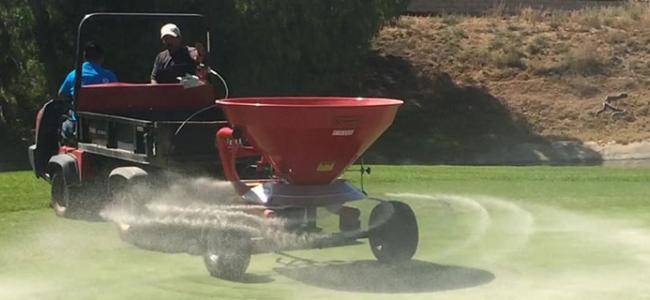 Kapolei, HI — Ness Turf Equipment, the premier distributor of ag and turf solutions in Hawaii and the Pacific Region, is proud to announce the new Gearmore PTB560 Pull Type Spinner Spreader. The Gearmore PTB560 is a self-contained, towable attachment that can be operated by almost any vehicle.
The PTB560 Spreader has large 20-inch diameter by 10-inch wide flotation tires to make it "Turf Friendly." It is easy to transport with its ground drive, cast iron, oil bath gearbox that can be disengaged. Operators can adjust the spread rate and turn the spreader on and off from the vehicle seat with the cable control.
General Manager Leonard Smith, says, "The Gearmore PTB560 Spreader is the ideal low-cost seed, fertilizer, sand, and salt spreader." Smith adds, "The large 1070 lbs./14.2 cubic feet capacity and spread distance of the spreader make it an excellent choice for all your spreading needs."
Smith continues, "Its efficiency and ease of use make the Gearmore PTB560 Pull Type Spinner Spreader a popular choice for golf course, park, sport field, and turf farm use."
Contact Leonard Smith at 808.486.8301 or lsmith@nessturf.com for more information on the Gearmore PTB560 Pull Type Spinner Spreader.
Press Contact
Carolyn Mitchell-Voss
Marketing & Public Relations
858.674.7167
cvoss@nessturf.com