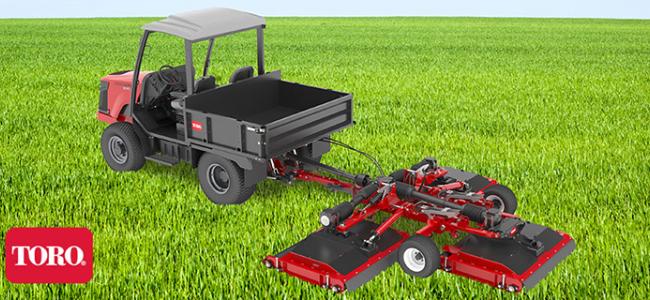 Kapolei, HI — Ness Turf Equipment, the premier distributor of ag and turf solutions in Hawaii and the Pacific Region, is proud to announce the new Toro Groundsmaster 1200 pull-behind rotary mower. The Groundsmaster 1200 is a towable attachment engineered with productivity, superior cut, and unmatched durability in mind.
The Groundsmaster 1200 features three contour-following cutting decks, each equipped with dual full rollers, to create a better after-cut experience. Height of cut adjustment from 0.5" to 4" offers outstanding productivity and versatility for any job. The cutting decks also feature trusted Groundsmaster spindles with heavy-duty shafts and dual tapered roller bearings for increased durability.
Leonard Smith, General Manager, says, "The Toro Groundsmaster 1200 is the most durable Groundsmaster yet. The bidirectional impact absorption technology cushions and protects the individual cuttings giving operators and owners peace of mind."
Smith continues, "The Toro Groundsmaster 1200 is compatible with many tractor makes and models, including the Toro Outcross 9060, making it the perfect asset for every turf and ag maintenance fleet."
Contact Leonard Smith at 808.486.8301 or lsmith@nessturf.com for more information on the Toro Groundsmaster 1200.
Press Contact
Carolyn Mitchell-Voss
Marketing & Public Relations
858.674.7167
cvoss@nessturf.com