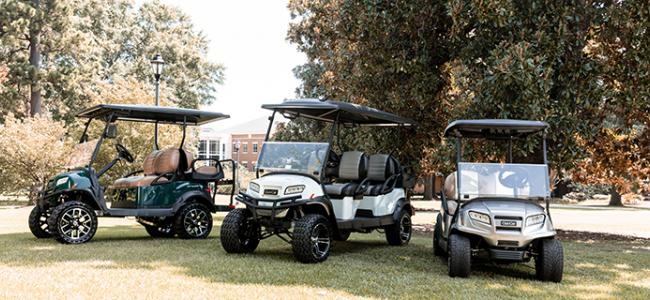 Custom Build Your Own with New Design Options and Accessories
Kapolei, HI -- Ness Turf Equipment, the premier distributor of ag and turf solutions in Hawaii and the Pacific Region, is proud to introduce the new Club Car Onward series with integrated custom design options and accessories. Our collection of Onward personal transportation vehicles is now available with a seating capacity of 2, 4 or 6 passengers, plus lifted suspension on select models.
"Onward is the only vehicle of its kind with customizable options and accessories to match your personal preferences," says Leonard Smith, General Manager. "Using our new build configurator, you can customize your favorite Onward model with different colors, seats, windshields, canopies, wheels, and more."
As one of the only personal transportation vehicles constructed from an aircraft-quality aluminum frame, the Onward is resistant to the elements and will not rust or corrode over time. Our wide range of available seat options provide superior comfort and style. Club Car® tires are also made with premium compounds to improve durability and deliver a smooth ride.
With a standard 4-wheel brake system and enhanced suspension system, each vehicle has optimal stopping power and improved handling. Choose between standard electric, AC-drive, and gas engine powertrain options to meet your specific needs. Club Car has also engineered the Onward HP Lithium-Ion battery option to provide customers with the best electric personal transportation vehicle in the industry.
Press Contact
Carolyn Mitchell-Voss
Marketing & Public Relations
858.674.7167
cvoss@nessturf.com