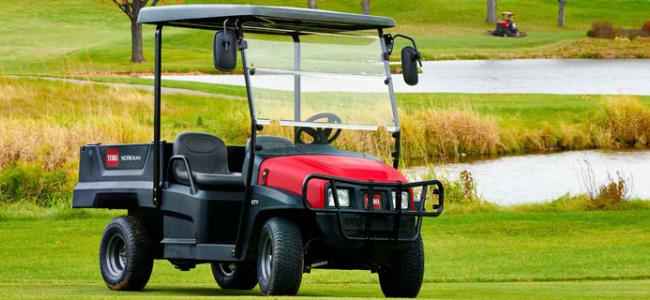 Simply Superior to the Competition
The Toro Workman GTX Series Utility Vehicles offer unparalleled comfort, utility, and control. With increased power, enhanced steering, and superior suspension and braking systems, it's truly the best in its class. The versatile Workman GTX boasts hundreds of configurations to suit your job needs. Options include two or four seats, gas or electric, front and rear attachments, and a flat bed. The Workman GTX series is ideal for a wide range of applications such as setting cups, checking irrigation, working on large locations, or transporting materials.
Benefits & Features
Power – Power and performance come standard on all Workman GTX models. The improved power to weight ratio increases payload capacity and productivity.
Steering – The automotive-grade rack and pinion steering system delivers greater control and lessens steering effort, reducing operator fatigue.
Suspension – Coil-over shocks all around the vehicle increase suspension travel, resulting in a smoother ride.
Hydraulic Disk Brakes – The advanced brake system requires minimal maintenance, no cable adjustment, and less pedal force than mechanical cable brakes.
Durability – The new composite exterior features a powder coated frame and underbody for superior strength and endurance.


According to General Manager Leonard Smith, "The Toro Workman GTX is the most versatile, powerful, and comfortable model in its class. No matter what your job demands, the Workman GTX has what it takes to get it done right." Smith adds, "Contact Ness Turf and let us show you how our industry-leading products can help grow your business."
Press Contact

Carolyn Mitchell-Voss

Marketing & Public Relations

858.674.7167

cvoss@nessturf.com