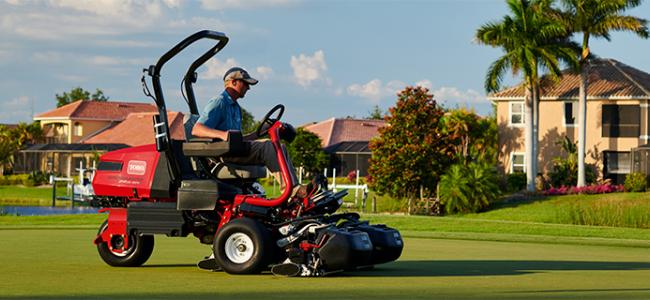 Most Advanced All-Electric Riding Mowers on the Market
Kapolei, HI -- Ness Turf Equipment, the premier distributor of ag and turf solutions in Hawaii and the Pacific Region, announces availability of the Toro® Greensmaster® eTriFlex™ Series, the most advanced all-electric riding mowers on the market. The new eTriFlex models carry no hydraulic fluid and utilize all-electric components for traction, steering, lifting, and cutting units.
"We are excited to introduce the Toro Greensmaster eTriFlex Series, featuring several new enhancements in cutting performance," says Leonard Smith, General Manager. "These models deliver superior cut quality and consistency with operationally friendly designs, noise reductions, and cost savings."
Our two new eTriFlex models include the 3360 powered by a Kawasaki® engine generator and 3370 powered by a lithium-ion Samsung® battery set. All-electric components reduce potential leaks, while the turning reel and traction speed control improves the aesthetics and playability of the green by lessening the effect known as "Triplex-Ring".
Both of these EnergySmart™ models are virtually silent during operation and decrease noise levels to help your course comply with local regulations. The engine-powered eTriFlex with battery assist technology is also up to 20 percent more fuel efficient, resulting in lower emissions and fuel savings.
For more information on the new Toro Greensmaster eTriFlex Series, contact your Ness Turf Sales Representative at 808.486.8330.
Press Contact
Carolyn Mitchell-Voss
Marketing & Public Relations
858.674.7167
cvoss@nessturf.com