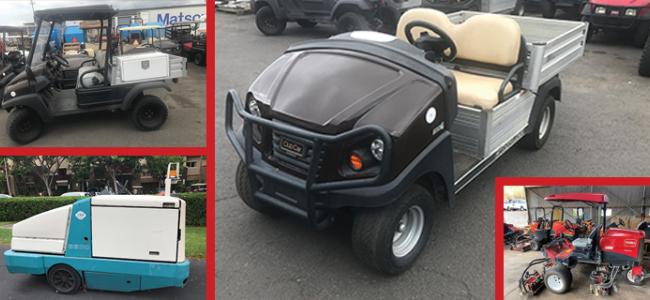 Updated Listings and New Pricing on Ag and Turf Equipment
Kapolei, HI -- Ness Turf Equipment, the premier distributor of ag and turf solutions in Hawaii and the Pacific Region, recently updated the Pre-owned Equipment eStore listings and prices. Inventory now extends across multiple product lines of top equipment brands including Toro, Exmark, Club Car, Gearmore, Kipor, and more.
Ness Turf offers the best selection of quality, pre-owned equipment on the market. Feature pre-owned equipment includes late model Club Car Carryall gas and electric vehicles, Exmark mowers, and Kipor portable generators. Feature new equipment includes a Club Car 4-Seater Electric Car and Toro BRC28 Brush Cutter. Customers can now take advantage of our summer hot deals on select pre-owned items.
The Pre-Owned Equipment eStore is the most convenient place to purchase pre-owned ag and turf equipment, utility vehicles, and transport vehicles. Our online inventory is available 24 hours a day, 7 days a week. It is also updated regularly to show what is in stock and ready for pick up at our location. If you don't see what you are looking for, just let us know and we will find it for you.
"Our team is constantly working to give customers the best value and prices on brand name ag and turf equipment," says Leonard Smith, General Manager. "Whether you are buying pre-owned or new, Ness Turf consistently delivers high-quality products and services to all of our customers."
Contact a Ness Turf Sales Representative at 808.486.8330 for more information on new and pre-owned equipment available on our eStore.
Press Contact
Carolyn Mitchell-Voss
Marketing & Public Relations
858.674.7167
cvoss@nessturf.com